I fucking love this movie. Not even going to pretend like this will mostly be me gushing about how this is just the best. Also, if you're Australian, you can stream Legally Blonde via Stan.
Anyway, all the sorority girls organise a card for Elle's big date with Warner (I'm assuming because they think she'll get engaged).
Elle goes shopping with her friends for her "engagement dress", and when the cashier tries to rip Elle off, but Elle outsmarts her, and I love it.
However, I'm glad she doesn't buy the blue dress she's wearing in this scene.
Also, living in a sorority house sounds genuinely terrifying to me.
I love how Warner dumps Elle because 'he needs to be a senator by the time he's thirty' and Elle fucking destroys him.
I mean, it starts off as Elle wanting to win Warner back, but she fucking destroys him.
That's why I like this moving soooo much.
Also, Cuddy from House is in one of the tables! I don't even like House, but Cuddy is really hot, so I recognised her.
I don't know where Bel Air is, except for that it was where Fresh Prince was. Though I do know who Aaron Spelling is, because he created Charmed, and I loved Charmed when I was younger.
Anyway, Warner drops Elle home after dumping her, and her friends aren't really very sympathetic. They say it's 'almost been a week' and they go get manicures and bitch about her eating 'six grilled cheese sandwiches' like that's a bad thing.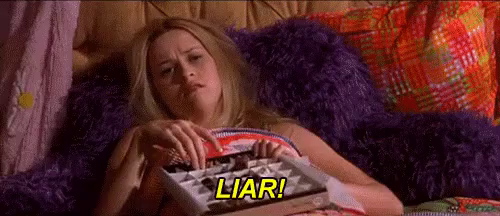 Elle gets excited as she's reading a magazine and she seems Warner's older brother, and realises she should go to Harvard Law.
Weirdly, Elle's dad is also the dad of the Charmed sisters in Charmed. I don't know if I ever connected those dots until now.
Elle begins studying for the LSATs, which is some American testing thing, but her friends think it's an STI.
However, while her friends are kind of duds, I think it's sweet that they do support her.
I love Elle's admissions video. I'll see if I can find it to embed because it's just too good.
Elle gets a 179 on her LSATs, which I'm pretty sure makes her a genius.
It is clear from the look of most of the men's faces because Elle is hot, they definitely want her in Harvard.
After meeting with some of the other Harvard peeps, Elle goes to her first class, where she's humiliated for not being prepared.
I love how Elle's like, 'What, like it's hard?' getting into law school.
The professor, with the help of Vivian (Selma Blair), kicks Elle out of class.
Elle meets Emmett (Luke Wilson), who helps her with her classes, but then Warner turns up with Vivian, who is now his fiancée.
Elle causes a car accident as she rushes to get her nails done, and she's convinced by Paulette to "win the bastard back".
She's mostly ignored by her classmates, and belittled constantly, but Vivian ends up inviting Elle to a party as a cruel prank, telling her it's a costume party.
However, I feel like she didn't win this one, because I'd wear a bunny outfit all the time if I looked like this:
Anyway, despite flirting with and hitting on Elle while his girlfriend's at the same party, Warner tells Elle that she's not "smart enough", and Elle decides to show him, and everyone else, just how smart she is.
She becomes one of the smartest people in her classes, gaining recognition from her professors, and helping Paulette get her dog back.
Elle is then selected to help Professor Callahan with his murder trial defence (the defendant is played by Ali Larter).
Elle realises that Brooke was a Delta Nu, and that she's even been in one of Brooke's fitness classes. Elle's reasoning for why Brooke is innocent: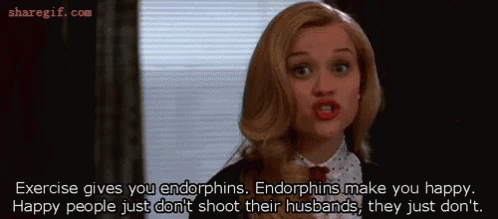 After interviewing Brooke, Elle and Brooke connect and Brooke feels relieved because she feels like Elle will help her, which would be ridiculous, except this is a movie.
Anyway, Elle teaches Paulette "the bend and snap".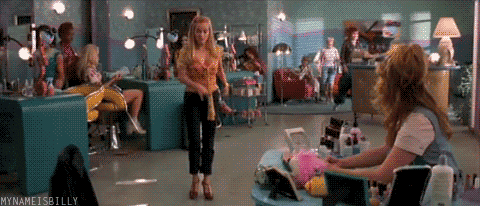 Elle visits Brooke in prison, and Brooke reveals that she has the perfect alibi: She was getting liposuction.
She rules her fitness empire via liposuction.
However, Elle refuses to break Brooke's confidence, and despite the airtight alibi, Elle has honour. Vivian is the only one who respects Elle's decision – her, and Emmett, probably, but he doesn't say anything. Neither does Vivian, but you can tell because she's pissed by what Warner says.
Elle and Emmett interview the dead man's ex-wife, and she says all she knows is that they had lots of sex and then insinuates Brooke was sleeping with the pool boy.
Elle helps out one of the guys in her classes, and then her and Vivian talk a little bit. They talk about how sexist their professor is, and then they talk a little bit about Warner and how lazy he is.
I like how Elle and Vivian become friends, despite Warner.
Anyway, because it's a movie, we now immediately move to the trial, and things don't look great for Brooke.
However, Elle works out that the pool boy is gay because he knows the type of shoes she's wearing, which Emmett later uses to discredit the pool boy.
Paulette tries the bend and snap, but breaks the guy's nose.
Also, lying on the stand is called perjury.
Vivian tells Elle that Callahan wants to see her, and Callahan sexually harasses Elle, which Vivian partly witnesses but mistakes for something consensual, and after Elle escapes Callahan's office, she berates Elle for sleeping with Callahan.
As a result, Elle decides to quit Harvard Law briefly, inspiring this great scene:
I fucking love Holland Taylor.
Emmett, however, rectifies the situation by telling everyone the truth, including Vivian, and Vivian rightly feels awful for how she spoke to Elle. Brooke decides to hire Elle instead of Callahan, despite her being a first year, and Emmett stays to support her.
Anyway, Elle starts off skittish, not knowing what to do, say or ask, but eventually, she finds a whole in Chutney's alibi via her beauty knowledge.
I like how confident Elle struts when she knows she's won.
Also, in case you're wondering, Chutney is what's-her-name from Scooby Doo: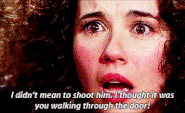 Anyway, after Elle wins Brooke's case, she destroys Warner, who immediately wants to be with Elle again:
There's a small after snippet, when everyone is graduating from Harvard Law.
Elle graduates as dux of Harvard, and her and Vivian become best friends.
There's also none for Gretchen Weiners: